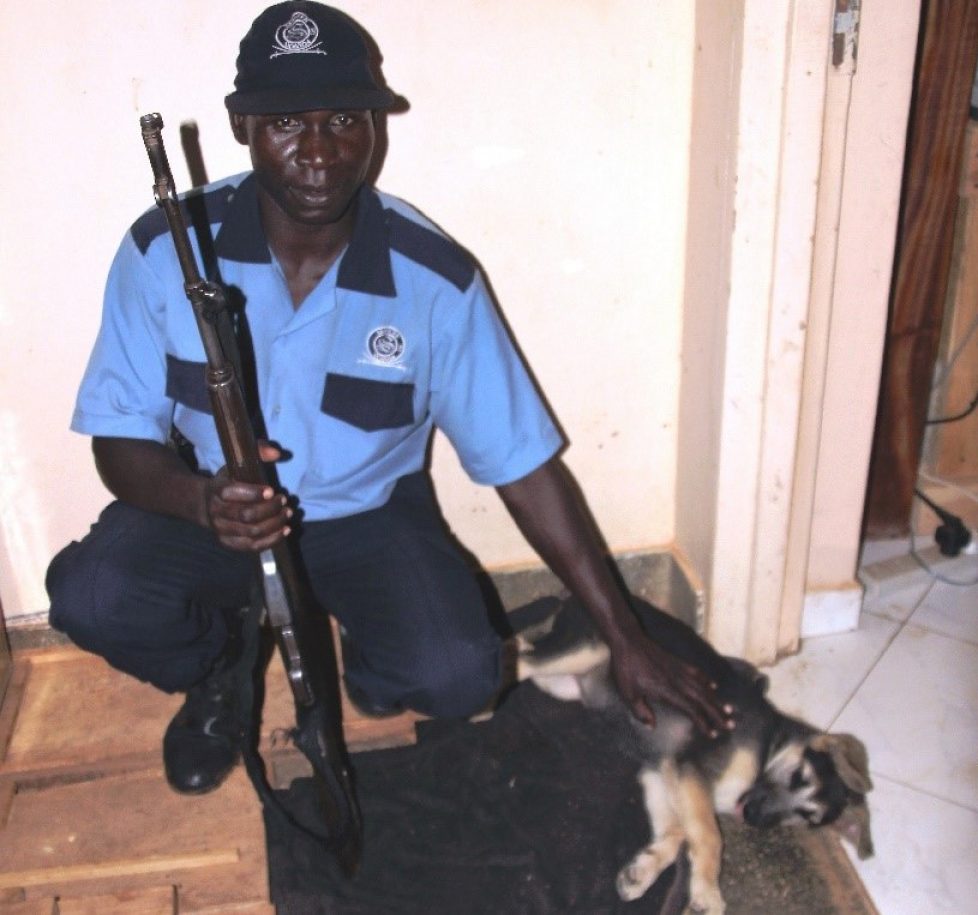 One recent night in Lira Uganda will stand out in our memory as one where we experienced God's perfect timing and placement of people.
Our Hands Across Nations home/office compound is guarded each night by an armed guard to keep us safe from thieves.  We have our favorite regular guard, Jimmy, who we know well and trust.  Each night he patrols around our house and compound every hour with our recently acquired German Shepherd mix puppy, "Kica" which means "Mercy" in the Lango Language.  On Jimmy's off day, we have a different guard, often not the same one each time, so we don't get to know them well.  One of them, Odongo Patrick, was a rather dislikeable guy.  Being a dog trainer himself, he frequently corrected our method of training and was somewhat arrogant.  Kica didn't like to be around him and cowered when he called her.
One night Keith was called away about 10pm to take our lead teacher trainer, Peter, and an embalmer, out to the home of one of our first teachers, Alfred, who had just died suddenly that morning.  They wanted him preserved well so that he didn't have to be buried right away as he was a well-respected and loved school teacher for 40 years and literacy teacher for Hands across Nations, and time was needed to prepare for his burial.
As Keith and Peter left, Patrick asked why they were going out so late.  I mentioned that Alfred had passed away and needed preserving, but his death was more of a celebration of his life as we knew that he was in Heaven, because he was a believer in Jesus Christ.  Hearing that short statement, Patrick said he'd been wanting to talk to us about that but didn't know how to start the conversation.  He said he's not been happy with how he is living and behaving and would like to understand how he can know Jesus.  For the next 2 hours we talked and prayed, with Patrick pouring out his regrets to God about his life, and asking for forgiveness.   Afterward he asked Jesus to come be the Lord of his life, helping him to change.  It was obvious, that he was at peace with himself and felt the change in his spirit.  Strangely, Kica, no longer was afraid of him and came over to be patted and stroked.  From that minute, she was his friend.
The next request from Patrick was for a Bible in his native language.  Fortunately we have been translating and printing important scriptures and books of the Bible in our home office which I could give to him.  That night while he wasn't patrolling on foot, he was reading the Word of God as a man who has found food after a long period of starvation.  He said that he was to be transferred to a district to the far north and had been delayed.  His belief was that it was for the purpose of finding Jesus that he had not yet gone.  Patrick returned just one more night and said his wife also wanted to know God, and was reading the books we gave him.  He left the next day for the north, promising to come back to visit when he was in the Lira area.
We never know when it will happen but we want to be ready, keeping our own hearts and minds set rightly on the things of God, so sometimes we can be a part of it.
The miracle of a life, suddenly changed, without our expecting or planning it shows us that God is always involved in the everyday things of life.  In the book of John 6:44, in the Bible, Jesus said "No one can come to me unless the Father who sent me draws him."  He is drawing people to Him through His love, and we can't deny it.  We never know when it will happen but we want to be ready, keeping our own hearts and minds set rightly on the things of God, so sometimes we can be a part of it.  It's an awe inspiring life!