Matthew 25:40
"Truly, I tell you, whatever you did for one of the least of these Brothers & Sisters of mine, You did for me."
Working With a People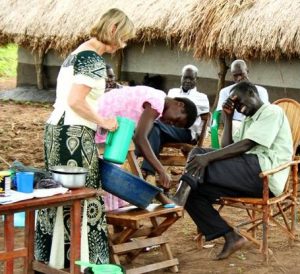 Hands Across Nations grew out of a short term mission trip to war torn Northern Uganda in 2001. 
The plight of the Langi people, suffering under the attacks of brutal rebels, pierced our hearts and we have been returning to the Lira area every year.  Our volunteers provide assistance for physical, spiritual, and educational needs where God directs us.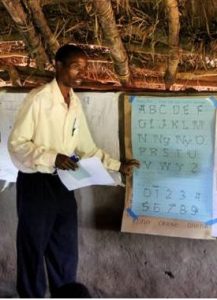 In 2013 we felt the Lord leading us to teach illiterate adults to learn to read and write in their native language.  They desired to learn to read so they could read the Bible.  In January 2014 work began to develop 2 primers which use a method of teaching developed by Literacy and Evangelism International (LEI).  Since then more than 3,000 volunteer teachers have been trained, with 920 classes and over 16,000 learners. 
Ongoing Mission
Since 2014 HAN has been deeply involved full time developing an adult literacy program for the Langi people. The object is to teach villagers how to read so they can read the bible. To date close to 20,000 village people have enrolled with over 2,000 volunteer teachers trained. The "Learning to Read to Read the Bible" program has also been taken into 2 of the 15 prisons in the Lango sub region. Uganda Prison authority has requested the program be taken into all 15 prisons.
Brief History of the Northern Uganda War
Northern Uganda devastated by 20 year war
Rebels abducted more than 20,000 children
Thousands of children orphaned by war & HIV/AIDS
Hundreds of thousands in refugee camps
Education severely limited
Unclean water, diseases, poor medical access
War ended 2007 but the effects are still being seen